GIVEAWAY CLOSED
There is more magic in Midway than you can even imagine and you need to know about this one of a kind must-see attraction. Ice Castles. Yes, they are exactly that- beautiful and majestic Ice Castles! Located on the grounds of the Homestead Resort where we stayed there is an incredible hidden gem that opened in January. I took my family and enjoyed every minute of it – and when I say every minute, we were there for hours, enjoying every. single. minute. Ice Castles is truly a fairy tale come to life! Midway is not the only place to see Ice Castles though, they are located in six cities across North America and now I want to visit them all! They are awe-inspiring and a definite must-see for your bucket list this year!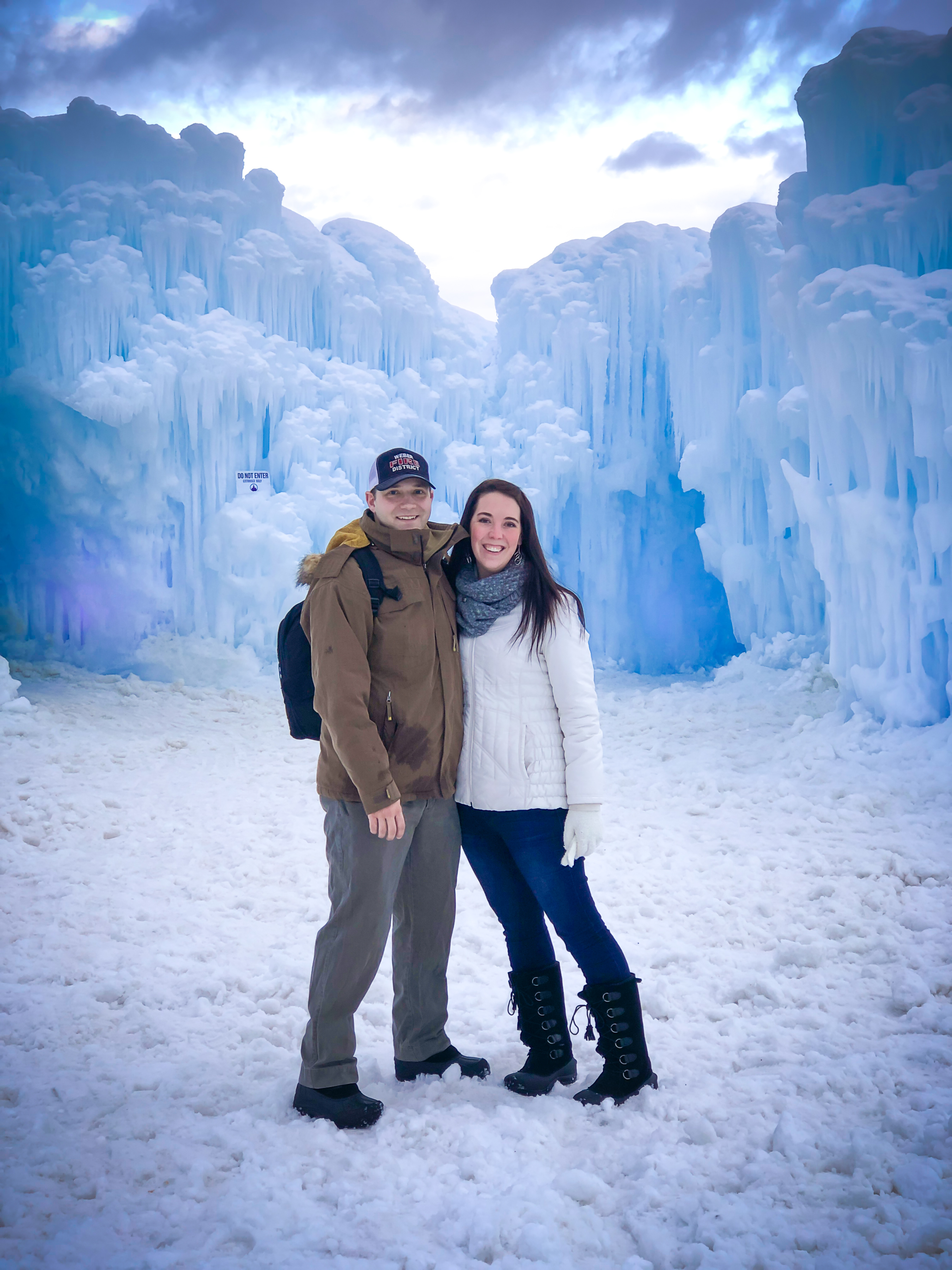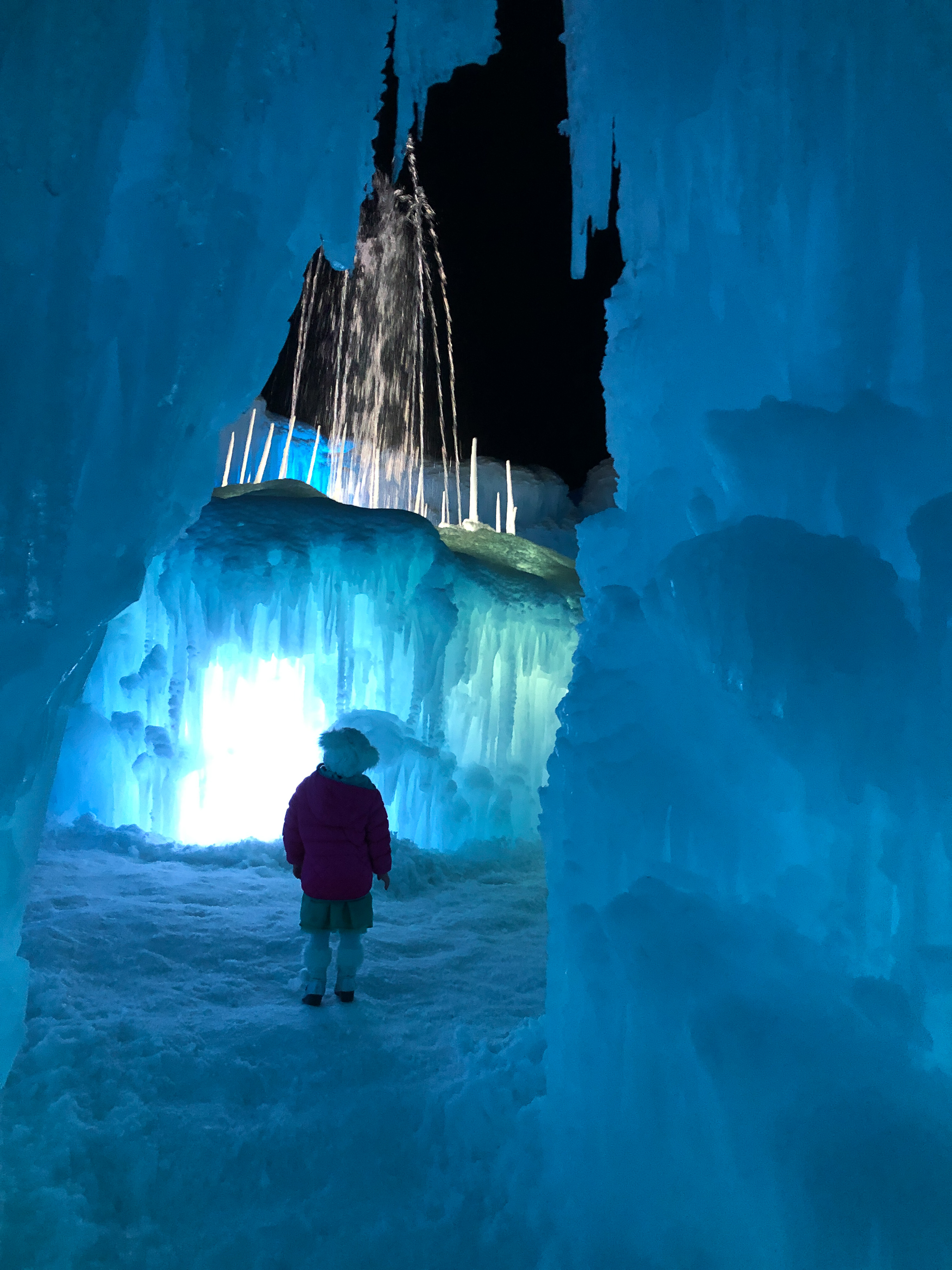 Our Experience
Ice Castles is an awe-inspiring, must-see winter phenomenon that brings fairy tales to life. The experience is built entirely by hand using hundreds of thousands of icicles hand-placed by professional ice artists. The castles include breathtaking LED-lit sculptures, frozen thrones, ice-carved tunnels, slides, and fountains.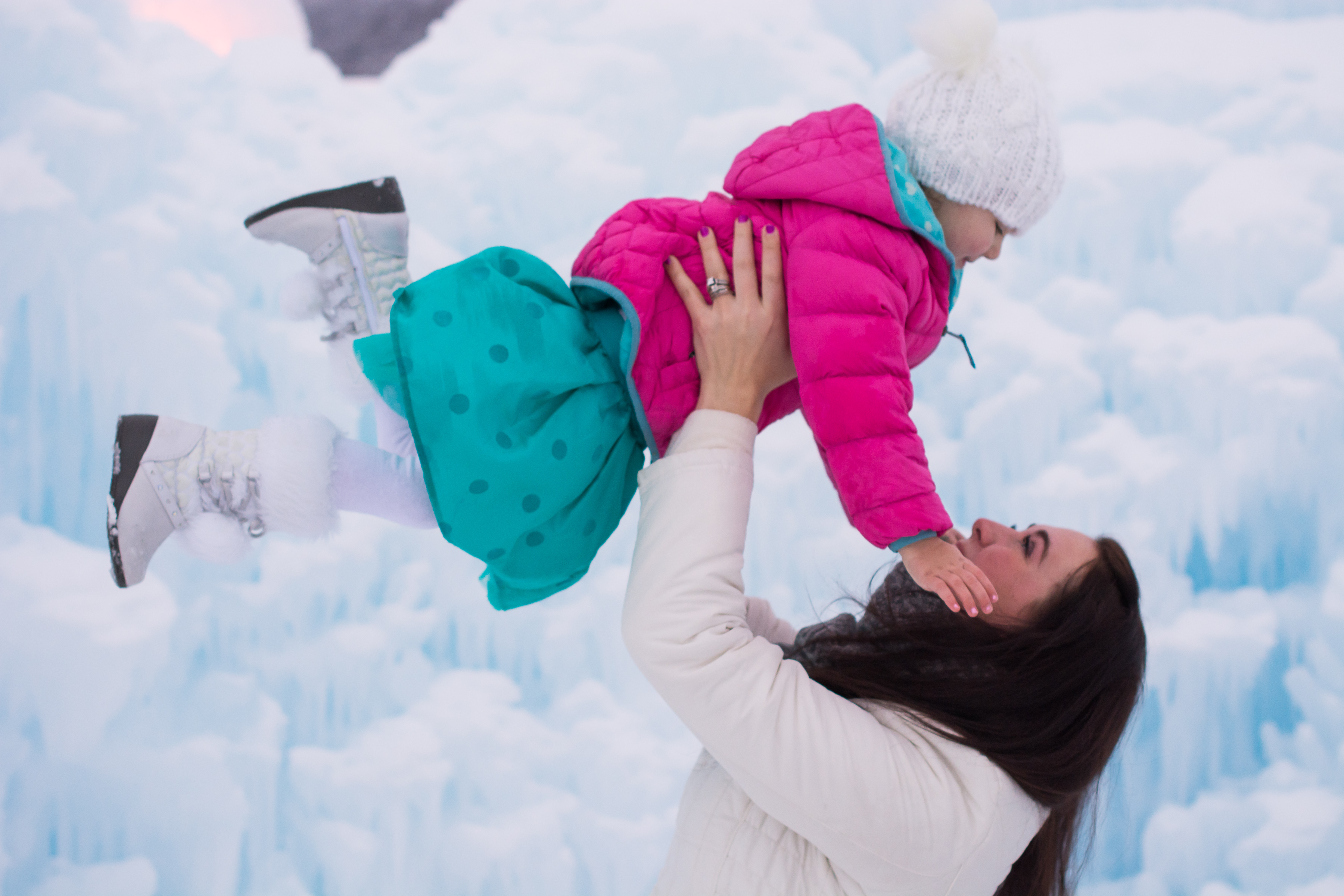 We spent a good couple of hours enjoying the beauty of Ice Castles! I couldn't believe how many tunnels you could explore, slides you could go down, and all the little hideaways we found. I will tell you- there is a big difference between the little kid slide and the big kid slide though. If you want a really fast-really fun slide don't miss the big slide, although you do have to be tall enough to go down. We went over and over. My kids were perfectly happy going down all the other slides and finished each slide with, "again please?" because they loved them so much!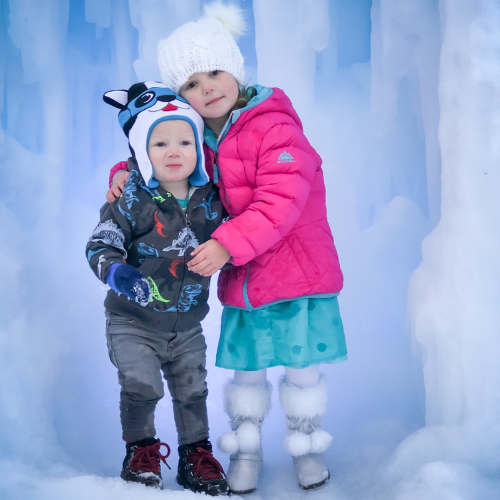 📷 There are several places for photo ops and thrones that make fantastic pictures- so take your camera and be sure to look out for those!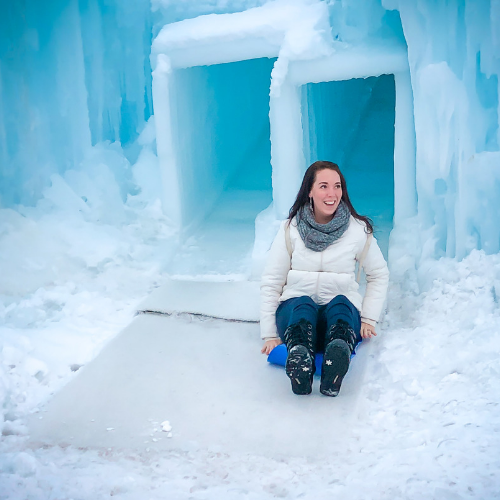 People keep asking if they should go visit during the day or night- honestly, they are both beautiful and I couldn't pick a favorite! We went an hour before sunset to take advantage of both. About the time the sun started to set we went and got hot chocolate and cinnamon rolls and waited for it to get dark enough for the lights to really glow. Yes- you can get, if you ask me, darn good hot chocolate and cinnamon rolls to eat by the fire in the middle of Ice Castles. So- we did just that.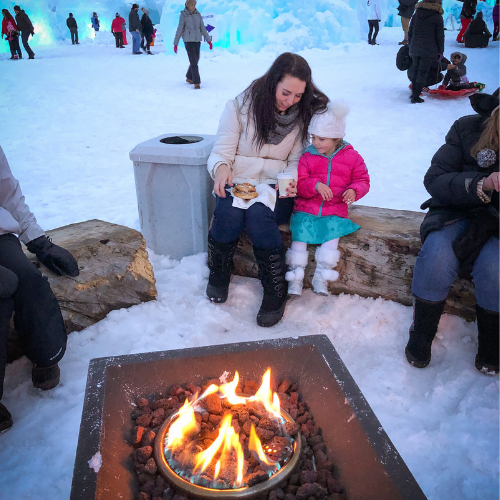 Once it got dark Ice Castles turned into a whole new level of magic. I was seriously stunned and couldn't get enough of all the beautiful lights and the way they lit up the Ice Castles. The colors were so vibrant and stopped even my little ones in their tracks. You wanted to see it all, yet couldn't get your feet to move. After we had been there a few hours we finally headed back to the resort, much to the dismay of our kids. My kids didn't want to leave, they wanted to keep sliding and having an adventure in the colorful castles.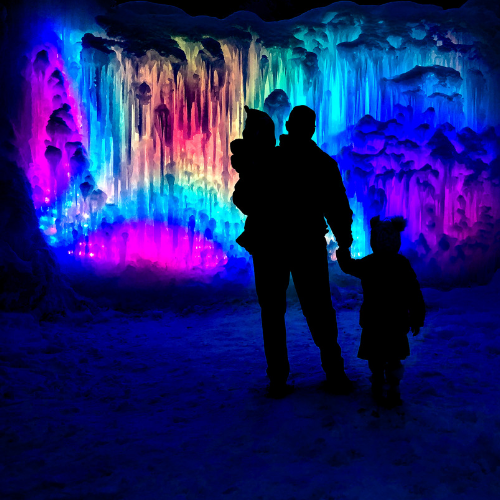 A little Background
Ice Castles was founded by Brent Christensen, a Utah father of six who was looking for ways for his family to enjoy the outdoors together, even in winter. He created an ice cave in the front yard of their home, which ultimately brought out more than just his own children. Ice Castles is now an internationally renowned experience with five locations in cities across the United States and growing. You can see Ice Castles in the following locations:
Minnesota, New Hampshire, New York, Utah, and Wisconsin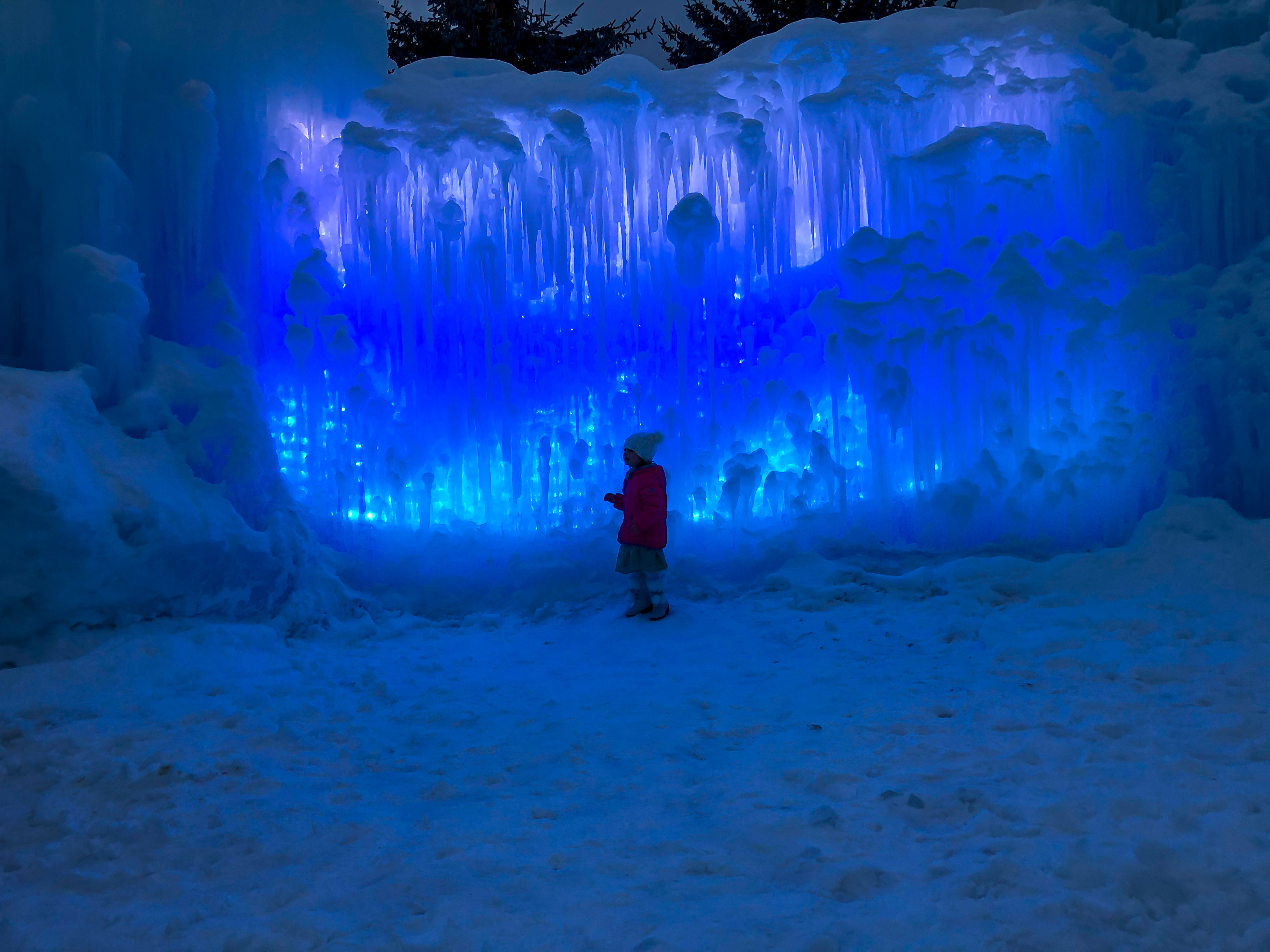 Ice castles are built entirely by hand using hundreds of thousands of icicles hand-placed by 20-40 professional ice artists. They grow grow icicles and by hand take each one and place them into the ice formations. Once placed they drench them with water. This creates the most gorgeous ice formations that you must go see!. They then freeze LED lights inside to illuminate these beautiful castles at night. It takes them about two months to construct each ice castle and they are about one acre in size, weighing more than 25 million pounds each.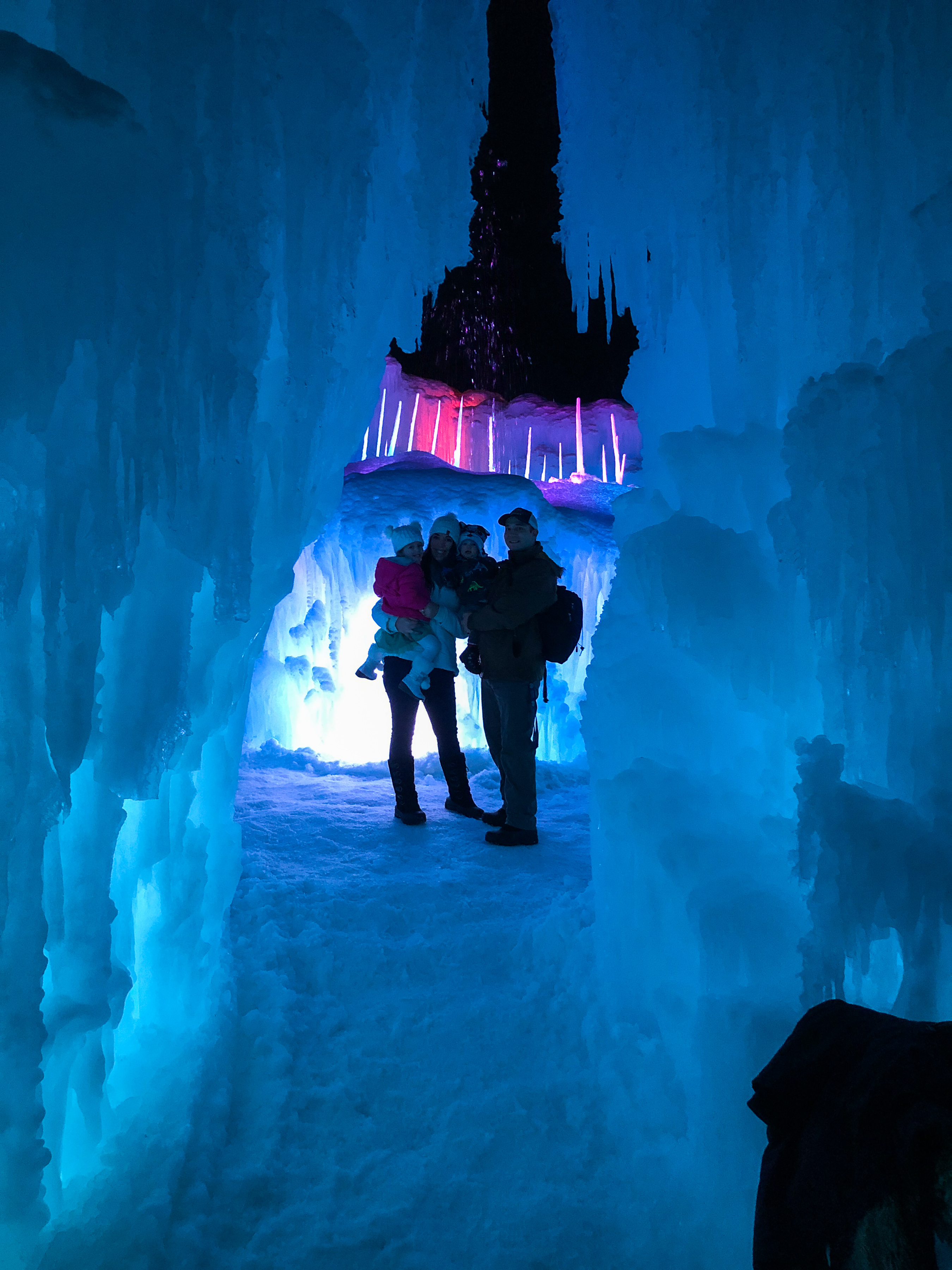 The Details
Location:
| | | | |
| --- | --- | --- | --- |
| Soldier Hollow Nordic Center | 2002 Olympic Dr. Midway, Utah 84049 | | |

Pricing:
General Admission 12 and up: $15 (weekday) $22 (weekend)
Child Admission 4-11: $11 (weekday) $15 (weekend)
Child Admission 3 and under: Free
For more information on Hours and Pricing visit their website here.

Tips and Tricks:
❄️ The number one thing I would tell you is DRESS WARM! Make sure you have warm shoes and gloves because you are surrounded by ice and snow.
❄️ If you are bringing children like I did- ditch your stroller and bring a sled! I am not even kidding. We pulled our kids around on a sled and it was perfect! You could also carry your child in a pack on your back.
❄️ Put your kids in snow pants if you can. There are lots of slides and thrones to sit on and they can get a little cold.
❄️ Bring some extra cash, they don't allow outside food and drink- but they have delicious cinnamon rolls and hot chocolate! We might have gone back for seconds- it was that good!
❄️ Book a sleigh ride! Rocky Mountain Outfitters will take you to the ice castles in a sleigh ride!
❄️ Go a little bit before sunset to take advantage of day and night views! We went an hour before sunset and got to see Ice Castles during the day and then stayed to see them lit up at night!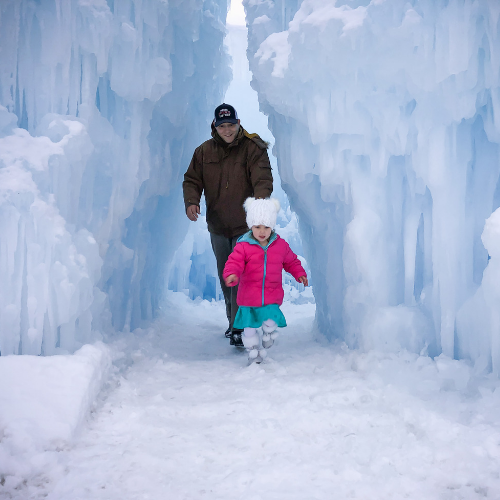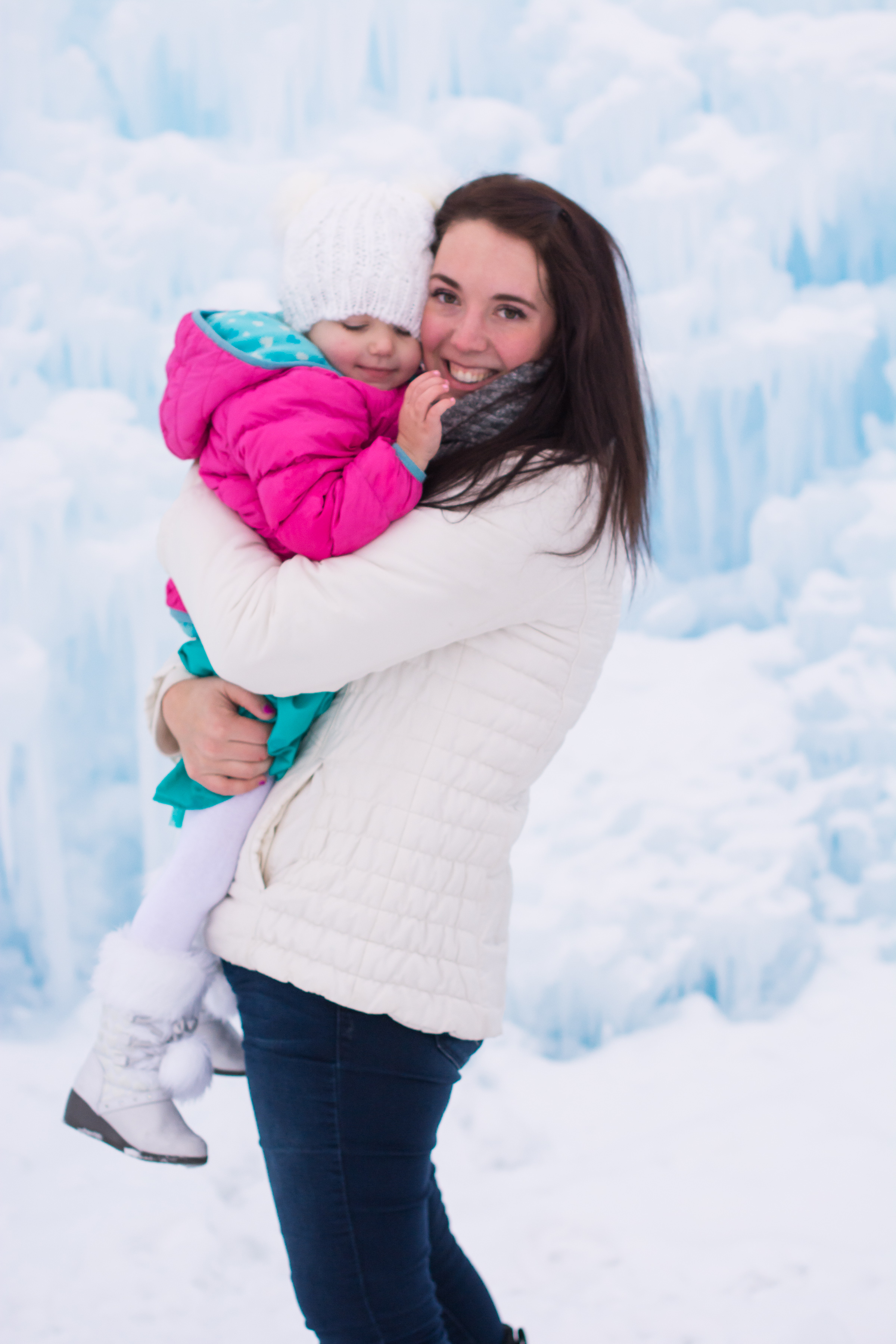 Follow Ice Castles on Social Media for more information! You can find them on facebook, instagram, and twitter! Remember to share #icecastles
For more information visit their website: icecastles.com