The Dreamiest Horse Ride You Will Ever Take.
Rocky Mountain Outfitters Will Make Your Trip Perfection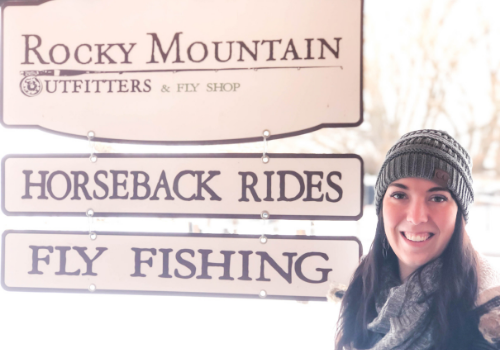 Winter Horse Back Riding. It sounds as dreamy as it is!
If you have ever wanted to take a horseback ride in the snow with the most beautiful views Rocky Mountain Outfitters is the best of the best! They will take you horseback riding in the snow up the mountain to see the most exquisite views of Midway, Utah. My husband and I spent the morning riding horses and I am already wanting to go back! The trail departs from the beautiful Soldier Hollow Ski Area (where the cross country skiing was hosted during the Olympics) and takes you up the mountain along some of the cross country trails. It is a breathtaking ride that you NEED to schedule during your next trip!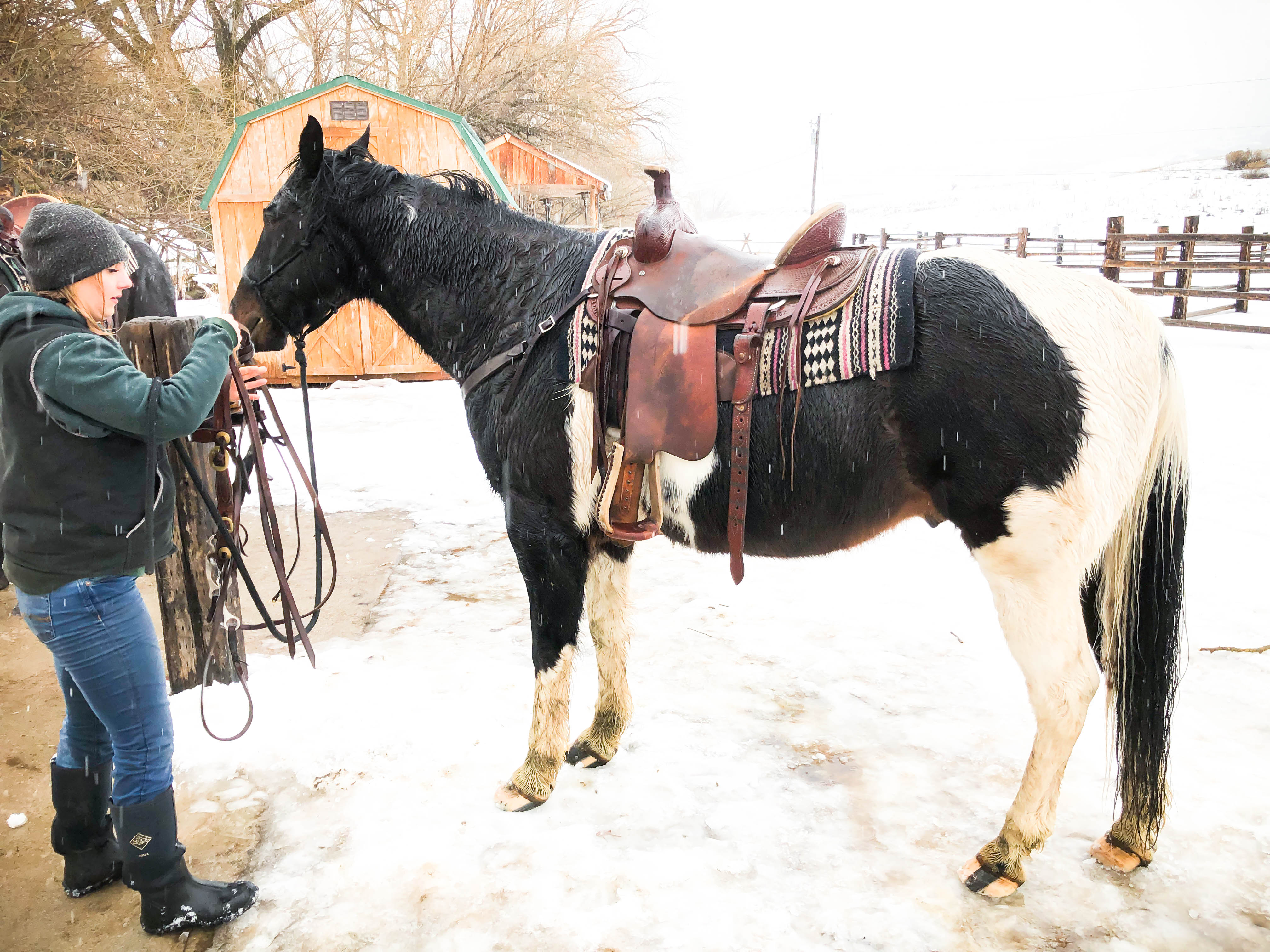 We arrived at Rocky Mountain Outfitters about 15 minutes early and they already had the horses saddled and ready to go. Our guide, who was adorable, told us a little bit about our horses (LeRoy and Flash) and all their little quirks before we got up on the horses and went on our way. We headed up Deer Creek Trail Head and continued up the mountain overlooking the valley.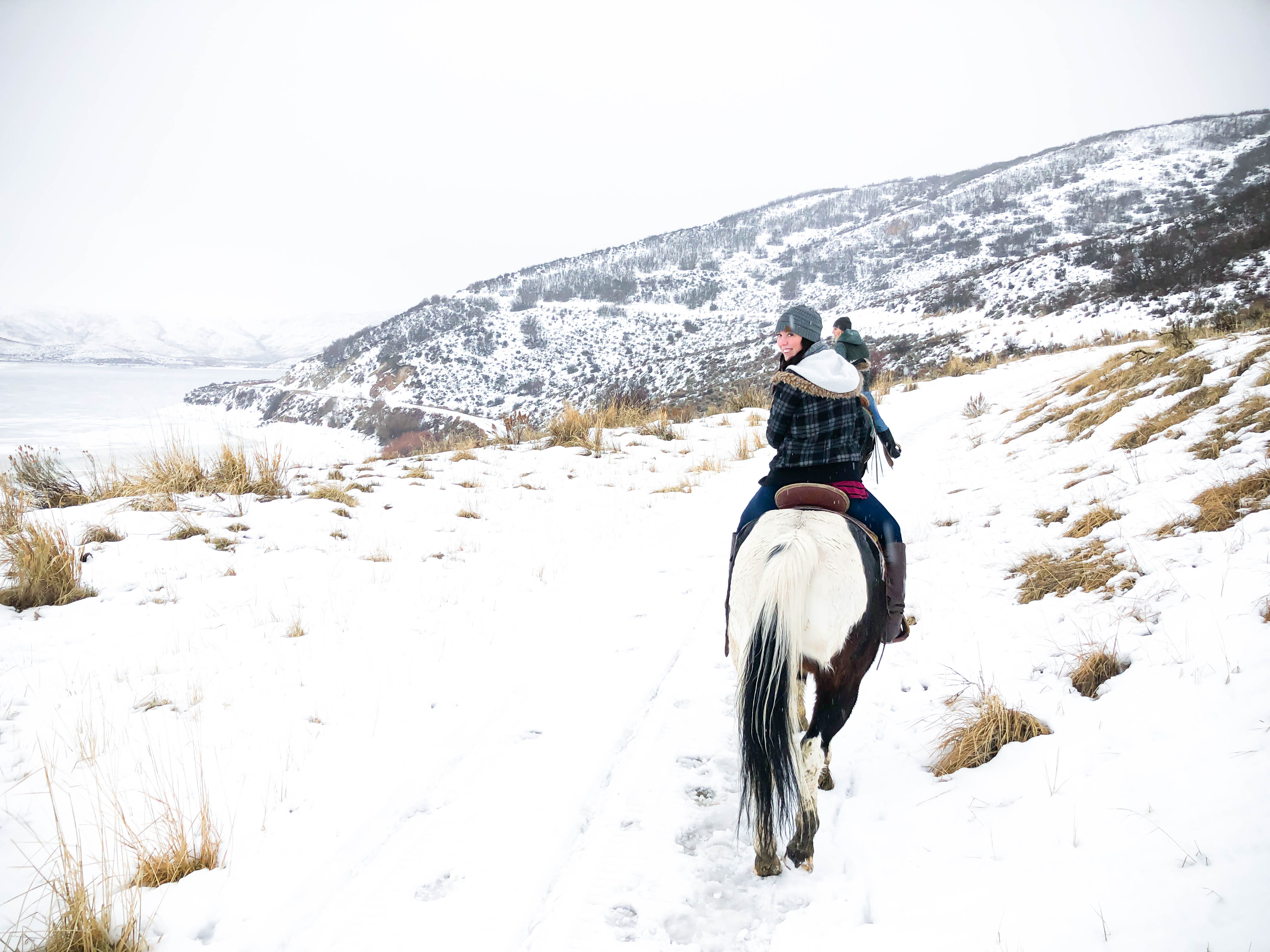 We loved every minute of the ride and lucked out with a light snowfall the whole way adding to the magic of our trip. I really had to pinch myself (without falling off the horse) to believe I was riding a horse up a mountain in Midway's beautiful winter wonderland. Now- I also have to give a shout out to our guide because she was so knowledgeable and answered every question I asked- and I had two hours to ask questions. She was fun to talk to and really added to the overall experience.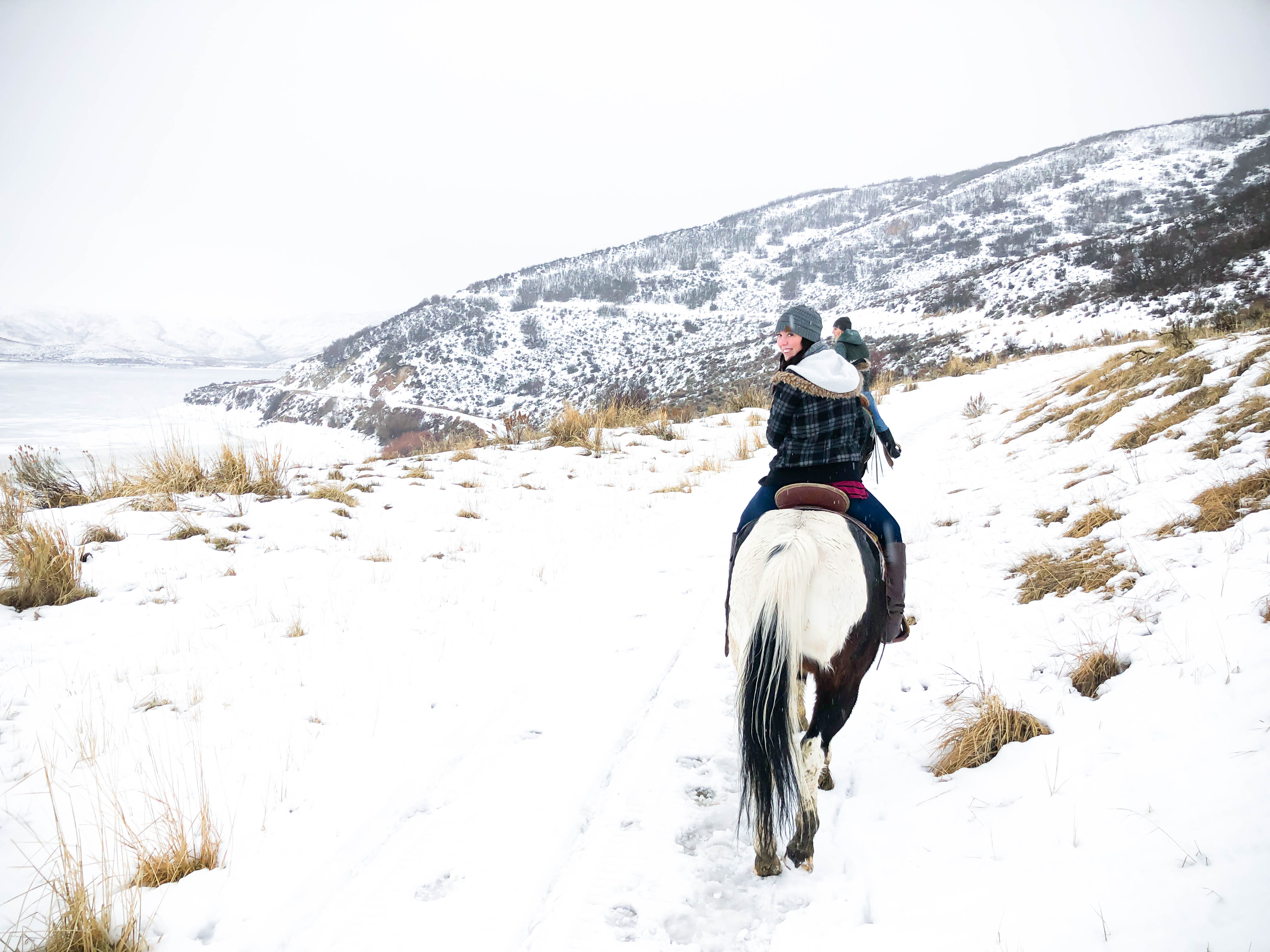 Once we got up to the top we stopped to really take in the view, take some pictures, and then we headed back down the mountain. You can go on a one hour or two hour trip depending on how far you want to travel. We ended up going the whole two hours and loved it. It was the perfect length of time! Now, I won't lie to you and tell you it isn't cold, but if you dress warm you will stay plenty warm. We really had the best time out in nature riding beautiful horses and enjoying the fresh mountain air.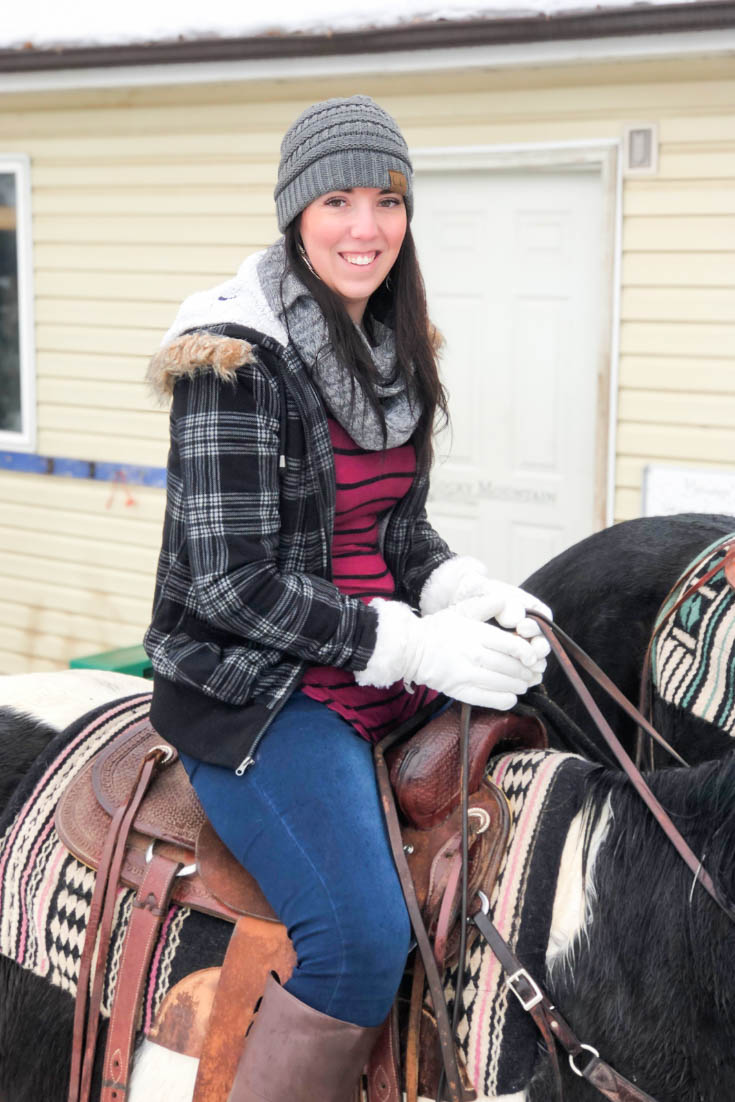 A little bit about Rocky Mountain Outfitters
Rocky Mountain Outfitters has been around since 1997, but got its name from his fathers business from the 1980's. Their goal is to provide quality experiences to their customers- which the most definitely do. Now years later they help families create memories and have experiences like none other. Simply put they provide a quality outdoor experiences that make lifelong memories.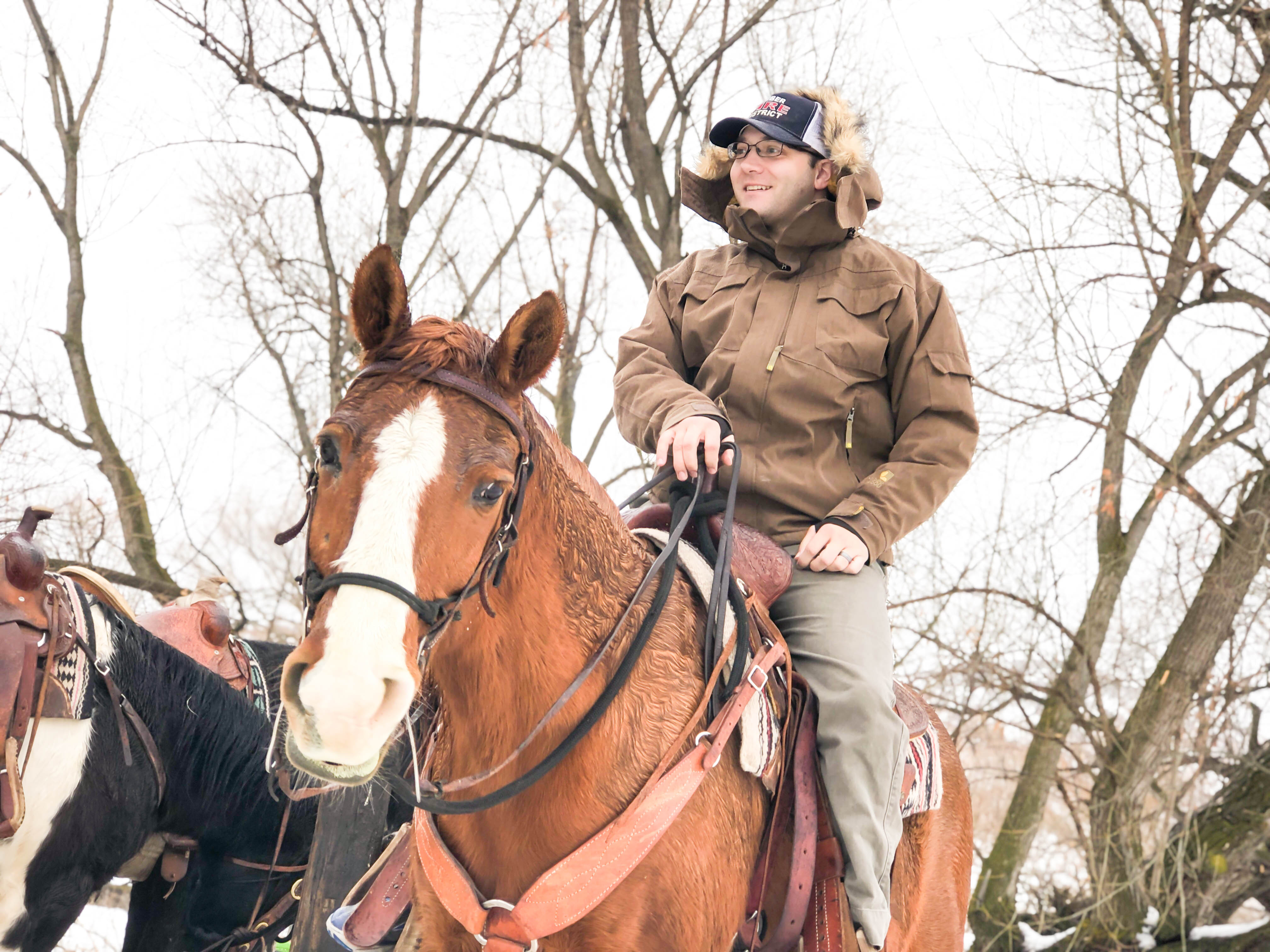 In the winter Rocky Mountain Outfitters also offers sleigh rides and snow mobile tours. In the spring and summer they offer so many other fun things including raft rentals, ATV tours, fly fishing, chuck wagon dinners, and more fun! Make sure to check out their special events when you are in town so you don't miss out on any of the fun! In the fall the special event not to be missed is their Sleepy Hollow Haunted Wagon Rides.
All the Details
| | | | | |
| --- | --- | --- | --- | --- |
| WINTER HORSEBACK RIDE | One Hour | $69 per person | Additional $25-$50 for Private Rides | |
| | Two Hour | $89 per person | | |
They have rides departing at 10:00 and 1:00
Riders must be at least 8 years of age
You can take a shuttle from Park City, Sundance or Heber Valley
You can't double ride, only one rider per horse
You must be able to mount your horse on your own and there is a weight limit
For more information and details visit their website here.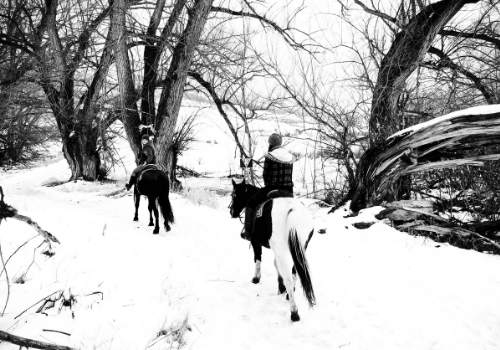 My tips for the best experience
Dress warm. Don't try to be tough. Wear really warm shoes, gloves, and a hat.
Listen to the guide. My husband and I are really familiar with horses and it wasn't our first ride, but we still listened to everything that the guide said because they know the horses- they know all the quirks that each horse may have
Have fun and enjoy the view- seriously, the ride will go by so fast, so don't blink to many times
Don't forget to kiss your horse and tip your guide!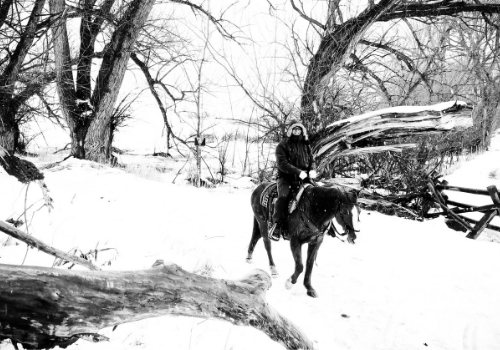 Check Rocky Mountain Outfitters out on their website!
They are located at: 633 West Soldier Hollow Dr. Midway, Utah 84049. For Directions check out their map here.
You can also reach them by calling 435-654-1655